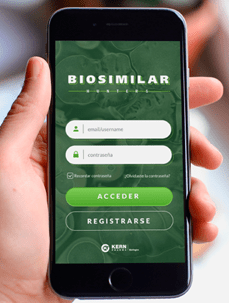 La aplicación para móviles "Biosimilar Hunters" de Kern Pharma Biologics, la división especializada en medicamentos biosimilares de Kern Pharma, ha resultado ganadora en la categoría Best Use of Gamification/User-Generated Contests de los prestigiosos SABRE Awards EMEA. Estos premios son unos de los más importantes en comunicación y relaciones públicas y los organiza el monitor The Holmes Report. 
El objetivo de "Biosimilar Hunters" era contribuir a la formación en biosimilares poniendo a prueba los conocimientos de los médicos y los farmacéuticos en este ámbito mediante un juego interactivo.
La app sumergía al jugador en una historia ficticia donde tenía que recuperar todos los medicamentos biosimilares perdidos tras el accidente en la Bóveda Rasvalmor, el mayor archivo del planeta. En los diferentes niveles del juego, médicos y farmacéuticos, convertidos en "Hunters", debían superar distintas pruebas y retos relacionados con los biosimilares.   
The Holmes Report, organizador de los SABRE Awards EMEA, es el monitor de Relaciones Públicas más importante del mundo y tiene como objetivo proporcionar informes y análisis sobre tendencias en el ámbito de la reputación corporativa de empresas procedentes de Europa, Oriente Medio y África.